A human approach to digital transformation
Challenges Faced by Asset-Intensive Industries
Asset intensive businesses, regardless of industry sector and geographical location, all face relentless demands and pressure on their existing infrastructure that is established and aging. In many cases, because of high costs, they have deferred new investment as long as possible and need to update their asset and safety strategies.
These businesses need technology and digital innovation in order to move their business models forward, however at first glance, the types of solutions needed may seem too far off to undertake from both a scope and cost perspective. After all, the promise of results that can be achieved through big data is attractive but there is more data today than there was yesterday, and with the digital universe expected to reach 44 zettabytes this year, it can be overwhelming! Here is where collaborative asset intelligence comes in.
Collaborative asset intelligence
The key to realizing the value of data, algorithms, and digital transformation associated with a sophisticated asset performance management (APM) strategy, is the connectivity it creates to work and operations management systems and the silos broken down in that process. This isn't just mechanical or even digital. It allows more groups to contribute to the full picture and simultaneously fosters the buy-in needed to successfully complete actions. This inclusivity builds trust not only in the algorithm, but throughout an organization. And this process produces better decisions, and the resulting alignment and buy-in drives more effective execution. The collaborative process encourages managed, quantified and controlled risk-based decision-making as individuals are supported by peer reviews and other safeguards, and it discourages decision procrastination.
Making the right data accessible to as many people as possible and incorporating roles, ownership, collaboration, decision-making processes and accountability are all vital components for an organization to effectively keep from getting swept away in the "data tsunami" and successfully transform via a digital APM strategy. Placing people at the center of a company's APM strategy from the beginning is the key for an organization to minimize the perceived pain of implementing a successful digital model and maximize the gain of potential operational improvements.

With this approach and the right asset performance management solution in place, an asset-intensive organization can:

Secure organizational buy-in for technological transformation
Reduce downtime by proactively identifying a maintenance issue before it occurs.
Reduce maintenance costs by using a prognostics, condition-based approach to maintenance that can help operators anticipate which failure mode for an asset could occur, when it could occur and what the impact would be, thereby allowing them to make a strategic recommendation on what should be done to avoid it.
Increase productivity by knowing how to schedule downtime or defer non-critical maintenance activities on a critical asset by truly shifting from time-based maintenance to a condition-based approach.
How ready is your company for this digital transformation?
Understanding how assets are performing is critical for companies seeking to deliver benefits to their customers. Hitachi ABB Power Grids enterprise software solutions help our customers operate, analyze and optimize over $4T of assets every day, minimizing risks across their network, enhancing operational and financial performance, and executing the right strategies for the future. We would be proud to partner with you on your digital asset management journey.
Hitachi ABB Power Grids Expert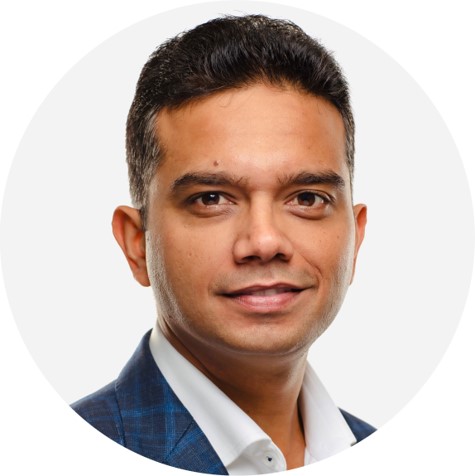 Tarang Waghela
SVP - Digital Business
Hitachi ABB Power Grids
Tarang Waghela is the SVP of the Digital Business, part of the Enterprise Software product group at Hitachi ABB Power Grids and works with organizations all over the world to support them with their digital transformation journey. Tarang believes that automation supported by software can revolutionize industrial operations, create sustainable growth for organizations, and deliver value to all stakeholders.

During his career, he has successfully led numerous digital initiatives and supported organizations with their software transformation projects in the areas of Enterprise Asset Management, Asset Performance Management, Workforce Management, Logistics and Inventory Management, Quality Management, Strategic Mine Planning, Geological Data Modelling, Mining Economics, and Enterprise Resource Planning.
Get the latest insights delivered straight to your inbox. You will also receive invitations to webinars, case studies and current industry topics
You may be interested in:
First, tell us who you are