Better Planning Processes Boost Asset Reliability
The inability to rely on critical assets is the bane of utilities and other asset-intensive organisations. It can result in loss of productivity or revenue as well as risks to safety, regulatory fines and damage to brand reputation. However, if a utility is able to take a proactive approach to asset reliability, it can determine the root causes and work to avoid these negative outcomes.
With so many assets, it's all too easy for something to go wrong in organisations focused on critical infrastructure. Utilities are further impacted by external events, such as weather, that are seemingly uncontrollable. However, with the right tools and software, all these factors can be considered simultaneously.

Lumada solutions offer companies the ability to rely more on intelligent, holistic systems rather than on specific individual, siloed pieces of information. Access to collaborative asset intelligence, advanced analytics, and real-time situational awareness as well as historical trends and prediction capabilities can help bring together data and information from across the entire organisation to drive greater asset reliability and more strategic decision making.
Identifying Process Deficiencies Drives Reliability
Lumada solutions allow information and actions regarding the operations, assets, systems and the workforce that supports them to all be presented in a "single pane of glass;" it enables faster decision making and more positive outcomes by providing employees with comprehensive information.
With accurate, consistent data inputs from across the enterprise, decision makers can identify whether or not:

Maintenance work is consistently requiring rework
All the materials needed for a job are where they need to be, when they need to be there
Work scope and timeline estimates are out of sync
Human resources are deployed in the best way considering skill sets, experience, geography and more
A job has special requirements that impact productivity — e.g. permitting needs or safety precautions
That is only a sampling of the types of information decision makers from across the organisation can see clearly, and take appropriate action. With highly reliable organisation data, presented in a user-friendly way, higher asset reliability becomes a reality.
Prioritise Effective Maintenance Planning
Maximising asset availability and minimising lifecycle costs requires effective maintenance planning. This cannot be achieved when a reactive approach to making decisions on asset health is adopted. If a utility relies primarily on time-based maintenance, prioritising work so that skilled people are in the right place at the right time with the appropriate materials and equipment for the job, the organisation may be foregoing optimal productivity as well as risking being challenged by the unexpected.
A storm takes out a high-voltage transmission line and the control room scrambles to get those customers back online. A fault detected in a traditional substation means a crew must shut off that power and check all of the different equipment wiring for flaws. A turbine in the Australian Outback goes down and the nearest crew is two days away. Any of these can ruin reliability, risk asset and worker safety, and see decision makers struggling to determine the next most important thing to do.

Instituting proactive maintenance can minimise the lifecycle cost of the asset and improve the efficiency with which the enterprise draws upon its finite resources. With Lumada solutions, a condition-based maintenance approach can be instituted, and reliability-centred maintenance is within reach. Considering the different indicators of asset reliability in place, the enterprise can better anticipate when failures might occur. By predicting problems before they happen, the utility can drive correct practices and establish a solid foundation for asset reliability and safety.

Consider the obvious advantages of being able to know, via the digital platform, where all field crews are working, and on what, with what skills and materials on hand. In the past, when there was an unexpected event, the next available crew might have been deployed from wherever they might be. Instead, planners can now determine the urgency of the emergent work and identify the nearest resources that best match the needs of that work order.
Advance Your Asset Reliability
With collaborative asset intelligence you can make sure all work is properly planned and scheduled as all of the necessary details are captured in the one place. This expedites effective work scope planning as everything from who is available to what work is planned is captured online. The system can even be configured to prompt planners to take into consideration travel time to a location, necessary skill sets, inventory shortfalls, or lack of required equipment (e.g. a crane of back hoe) that could end up making the work more costly or time-consuming than it need be.
The collaborative asset intelligence offered by Lumada supports data-driven decisions backed by the analytical power of big data and machine learning. Those in charge of planning maintenance get the support they need to ensure priority and criticality of the job is balanced with availability of resources.
Having this awareness across departments, from the top down, provides on-the-spot access to important insights. It's no longer only about doing what the calendar tells you to do (e.g. "it's been 18 months, time to do maintenance on the X") or only realising after an unexpected event how things might have been done differently.
With Lumada's analytic power across operations, maintenance, inventory, HR, and financial systems, the organisation enjoys action-ability from the field to the boardroom. The collaborative asset intelligence offered by Lumada offers a better perspective for managing today's utilities. Make your organisation more adaptive, collaborative, and responsive with Hitachi ABB Power Grids.
Hitachi ABB Power Grids Expert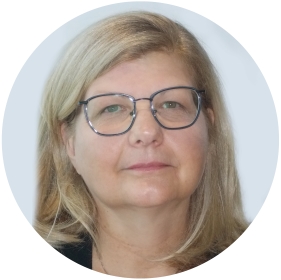 Margo Szabo
Industry Solution Architect
Margo Szabo is an experienced IT Consultant Solution Architect with over 25 years of extensive experience in the full IT service development life cycle, including Pre Sales, Business Analysis, Enterprise, Domain, and Solution Architecture. She started her career as an Accountant (CPA qualified) and developed a passion for software. Her experience within Asset Management and EAM solutions led to the implementation of MIMS2, back when large ERPs were first becoming prominent. Margo has lived and worked in this capacity in Australia, Africa, ASEAN, USA, Canada and the Republic of Marshall Islands. Her work experience also covers a diverse range of industries including Mining, Power & Water Utilities, Transport, Oil & Gas, Mining and Government / Defense.
Get the latest insights delivered straight to your inbox. You will also receive invitations to webinars, case studies and current industry topics
You may be interested in:
First, tell us who you are